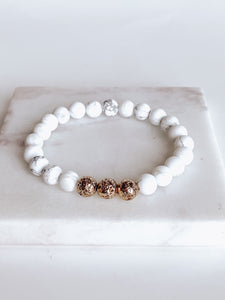 Be Still Triple Gold Bracelet
Signature White Howlite bracelet is made with matte white howlite beads strung on sturdy elastic with an accent of 3 gold lava beads.
Affirmations: May I be Still. May I be Calm. May I be Present.
8mm Beads
Bracelet measures snug on the wrist. Select wrist size in drop box or allow half inch for looser fit. 
Gift? Size guide referring to ladies dress size:
xs - 5.5" - 6.25"
s - 6.25" - 6.75"
m - 6.75" - 7.5"
l - 7.5" - 8.25"
 Approx 1 day production time. You will be notified when ready for pick up.