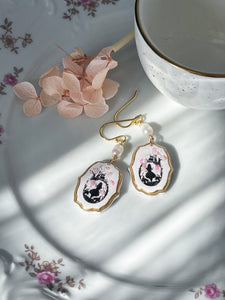 Alice in Wonderland
"The best gift you could have given her was a lifetime of adventure." 

Alice's dream adventure with mini dried flowers finished with a delicate freshwater pearl. 
Made lightweight and durable, all my earrings are handcrafted in small batches, custom colour mixed, hand stamped and cut right out of my home. As these items are handmade, variables are to be expected. Each piece is unique in it's own way.
Earrings are made of polymer clay and use stainless steel hypoallergenic posts and hooks. Lead and nickel free.
CARE
Polymer clay earrings should be handled with care and stored in a clean, dry place. Clean gently with a wet q-tip and sanitize metal posts or hooks with a q-tip and alcohol.
Although they are durable they may break if they are dropped or bent.