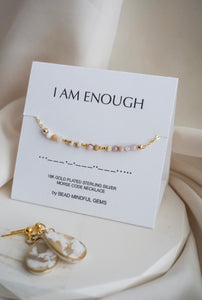 I AM ENOUGH pink opal affirmation Necklace
Pink Opal - inspires originality and boosts creativity. It will get the creative juices flowing, and it will gie you energy every time you need that extra boost. The energies of this stone will also encourage you to express your true self. You will feel confident and comfortable in your own skin, and this will radiate in your words, thoughts, and actions.
Opal is also known as a karmic stone, serving to remind us of the Law of Attractions. Whatever we send out returns to us, so if we want hope, love, understanding, compassion, friendship, and so on, we need to make sure that we act in a congruent way with this desire. 
Opal can help you to explore your hidden emotions, identify your true desires, and lead you towards a path of self-love and happiness.  

Dainty affirmation necklace is perfect to wear solitary or layer with other necklaces. Mini genuine gem stones parted with micro sterling silver beads are strung on hardy wire and attached to a dainty sterling silver chain. So pretty and delicate but sturdy and strong to wear everyday. 

Length: 16.5 inches.
Made to measure, allow 1/2 inch allowance from wrist size. 
Select chain finish from drop box
Note: Photo may indicate bracelet, but this product listing is for a necklace.