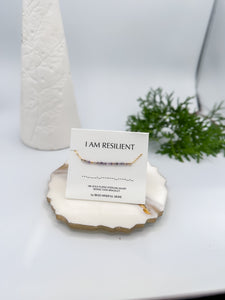 I AM RESILIENT amethyst affirmation Bracelet
Amethyst - emotional healing powers can help you cut through difficult situations and let you understand what it is you're dealing with. They make it possible to get through difficult choices and decision-making processes as painlessly as possible. 
Sometimes you can feel uncomfortable with yourself. But this stone can help you eliminate the shame and disappointment to get to the heart of the issue. 
It will also help you identify root causes of old hurts that lead to ways of behaving that you don't like about yourself. And help you heal and grow. It's not always easy, but Amethyst can ease the journey. 
Dainty affirmation bracelet is perfect to wear solitary or layer with other bracelets. Mini genuine gem stones parted with micro sterling silver beads are strung on hardy wire and attached to a dainty sterling silver chain. So pretty and delicate but sturdy and strong to wear everyday. 
Lengths: Available in 5.5 inches to 8 inches.
Made to measure, allow 1/2 inch allowance from wrist size. 
Select chain finish and wrist measurement from drop box, bracelet will be made 1/2 inch larger.
Gift? Size guide referring to ladies dress size:
xs - 5.5" - 6.25"
s - 6.25" - 6.75"
m - 6.75" - 7.5"
l - 7.5" - 8.25"